Rimfire Magic
WELCOME  TO  THE  WORLD  OF  RIMFIRE  MAGIC  RIFLES
Thank you for stopping by to look at our Rimfire Magic rifles. Based on the ubiquitous Ruger® 10/22® semiautomatic rimfire rifle introduced back in 1964 we believe we have achieved our goal in offering rifles with outstanding accuracy and reliability which  look good too!  We have spent several years subtly addressing tolerances in our UK manufactured receiver and have experimented endlessly with other component s such as barrel, bolts and trigger mechanisms. Sales have exceeded our expectations with over 750 rifles sold to date. We are pleased to offer a range of options which again have been selected after ten years of offering many options, these current choices are the result of customer feedback over the years. If you have any questions however basic you may feel they are…… please ask us!  We do not reckon to know everything but after working on around 1,500 Ruger® 10/22® rifles over the past twenty years or so we feel we can claim to be specialists in this area even if this does not make us experts!
MENU  PRICING  FOR  YOUR  RIMFIRE  MAGIC  RIFLE
Updated 2nd June 2023
The past couple of years has seen our costs increase dramatically and whilst we have declined to raise our prices before now, we regret we can no longer do this and need to pass on some of the increases. Our biggest problem has been air freight costs from the US and whilst we were paying something in the region of $2,500 for a shipment, our latest shipments have cost nearer $6,000!
In addition the inexorable rise for the cost of energy and raw materials has hit manufacturers of all products, not just the firearms industry. We hope to update this page soon but until then please treat all prices shown herein as a guide, and please ask for a firm quotation if you are looking to acquire  a Rimfire Magic rifle.
It's not all bad news as we are seeking to offer less expensive rifles by providing some rifles with less expensive upgrades, thus encouraging new shooters in particular to have the rifle of their dreams but still including what we believe to be the essential features necessary for optimum accuracy and functioning.
It's easy to calculate the price for many Rimfire Magic rifles as we have adopted a straightforward menu pricing schedule.  The price for the receiver unit complete with bolt, recoil guide rod assembly, recoil buffer and tuned trigger unit is £600  Then simply add the cost of your chosen barrel and then the stock and that's the total for the complete rifle.  We do offer a few options eg Power extended bolt handle assembly, a Power Custom competition magazine release, or a muzzle brake and any of these parts may be added for an extra £35   Occasionally we may be able to offer one or two other barrels or stocks for example and will always try to provide any other parts the customer may want. For those on a restricted budget we sometimes have used Match quality barrels available so please feel free to ask.
BUILDING YOUR NEW RIMFIRE MAGIC RIFLE
The heart of our rifle is of course the receiver which is fully CNC machined from a solid block of quality aluminium by UK craftsmen. It features a picatinny base which is integral to the receiver, NOT attached with tiny screws! The receiver is then finished with black Cerakote for a hard, tough and eye catching surface.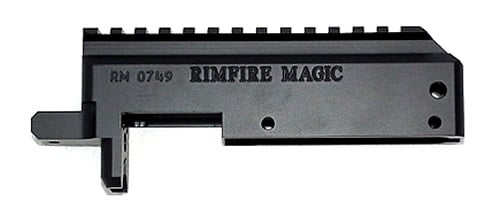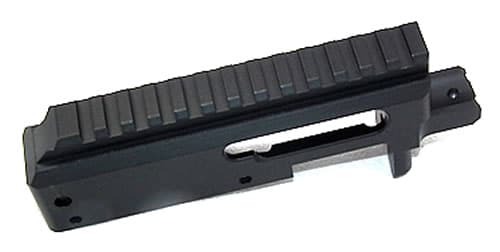 Previously we used a factory Ruger® 10/22® bolt but now we have upgraded this part and currently we use a Match Bolt manufactured by Power Custom (Grandmasters) in the US.  This part has several advantages over the original factory one in that it is CNC machined from a block of 416 stainless steel and exquisitely finished to give an almost mirror like surface.  The headspace dimension is rigorously controlled to the correct measurement and a titanium firing pin is held in place by a transverse pin across the bolt body to help resist lifting during cycling. The EDM produced extractor has a slight bevel to enhance feeding of the cartridge from the magazine. Whilst we employ a Ruger® 10/22® recoil guide rod and spring assembly as standard you are welcome to choose the option of a Power Custom oversize extended bolt handle assembly at a small extra charge if you wish. Using the Power part does give smoother operation and i our opinion seems to make the cycling action a bit more "snappy" and consistent. Available as an option for £35 extra.

TRIGGER  UNIT
For our standard trigger unit we fit a Ruger® 10/22® factory BX® trigger unit with a couple of upgrades. Firstly we use a custom reduced power trigger return spring manufactured in the UK but more important is the fitment of the CST kit produced by Mike Irwin in the US.  This clever device allows us to incorporate one of the features so often wished for with the 10/22® namely a last shot hold open whereby the bolt remains locked to the rear when the magazine is empty.  The CST works with most factory magazines but will only work when used in conjunction with the Power Custom Match bolt. Our modified trigger unit gives a trigger pull of between 2.25lbs and 2.75lbs. We have recently upgareded our trigger units and incorporated a Brimstone Gunsmithing trigger blade and other parts which removes the factory trigger plunger and trigger return spring, replacing them with a modified torsion spring and overtravel screw. This allows for a slightly lighter trigger pull but brings consistency into the trigger pull as the original plunger and spring sit within a tunnel in the trigger guard which has to be drilled off centre to clear the front of the trigger bow. This results in the factory parts being canted within the tunnel which we feel is not conducive to consistency of the trigger pull.
We now offer as an optional upgrade Volquartsen's latest TG2000 trigger unit which offers a 2.25 labs pull and incorporates their extended magazine release to which we add the CST last shot hold open device. This unit uses a V-shaped spring to return the trigger in place of the factory trigger plunger and return spring which adds to the consistency of the trigger pull. The cost of this option adds £195 to the basic receiver and trigger unit.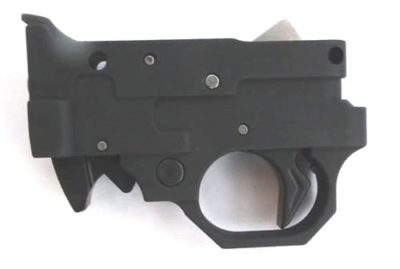 BARRELS
The barrels we use are obtained from major US producers and over the years we have determined that they should all be capable of shooting one half inch groups at fifty yards and this has been confirmed by many shooters although naturally this will depend on the shooters individual skill and the type of ammunition used. One particular barrel has proved to be the most popular choice amongst shooters and that is the tensioned carbon fibre barrel produced by Volquartsen Firearms of Carroll, Iowa.  This innovative barrel design consists of a thin rifled liner which is held under tension between two stainless steel end pieces by a tube of carbon fibre.  This gives the accuracy historically found in heavy, varmint style barrels but without the weight of the latter. Volquartsen offer this barrel in 16″ length for the US market but they also produce, exclusively for us at Rimfire Magic, a 12.5″ version which of course meets the UK legal minimum length and this has been our best selling barrel for many years now.  We are frequently asked if the accuracy form the shorter barrel is different to that achieved with the longer version.  All we can tell you is that many customers have told us there is no difference so you can order the 12.5″ barrel with confidence. The shorter barrel is particularly sought after by vermin shooters who tend to use a sound moderator, as fitting a moderator to the shorter barrel results in an overall length only an inch or so longer then fitting a moderator to the 16″ barrel!  You know it makes sense!




STOCKS
Having started with the receiver and trigger and added the require barrel all that is necessary to complete your rifle is to select the stock.  There is a plethora of stocks on the market for the Ruger® 10/22® which of course should also fit your Rimfire Magic barrelled action, but time has shown that the four stocks we offer from stock (if you will forgive the pun) have stood the test of time.  We are prepared to offer any Rimfire Magic as a barrelled action without a stock if you already own a suitable one yourself and we will try to supply other alternative stocks if we are able to source them but we are confident that one of the stocks shown below will fit your needs.





Showing all 5 results