Obsolete Calibres
This page updated 20th July 2022
OBSOLETE  CALIBRE  FIREARMS
Welcome to one of our newer pages. We have been accumulating a small number of obsolete calibre firearms over the past year or so, mostly as an extension to Roger's hobby interest in many of these old firearms!
However, due to Sheila's insistence we (she) has decided to offer some of these for sale. Although Roger may have fired some of the rifles shown they are all offered for collecting only under Section 58 of the Firearms Act which means that no licence is required to purchase them. Should you wish to fire any of them this will be entirely at your own risk and they must be entered on your FAC before doing so and we would strongly advise that the gun is submitted to one of the Proof Houses for testing.  We should also point out that we do not claim to be experts in this field….just possessed with a total and absorbing fascination for these fine old guns! However we will try to answer any questions you may have as best we can, and will happily take further photographs of any particular part which you may require.
NB. Following recent changes to firearms legislation certain offences and lengths of custodial sentences passed means that we will need to ask purchasers of Section 58 firearms to sign a disclosure that they are not prohibited from possessing such firearms under the terms of the Violent Crime Reduction Bill 2017   This isn't necessary if you already hold a Firearms or Shotgun Certificate.
Latest News
We are awaiting a large shipment from the US which includes a number of obsolete calibre and antique firearms including a couple of Colt 1849 pocket revolvers, a Winchester .32-40 lever action rifle, Sharps carbines in .50-70 and .52 percussion (one of which comes with accompanying interesting paperwork and details of it's previous Civil War owner)  Other items include a Smith & Wesson 1-1/2 revolver, Maynard 2nd Model Civil War and Smith carbines and a Hopkins & Allen .38RF revolver. Photos and details will be added to this page promptly when the shipment arrives.
Marlin Model 1893 Special Order Takedown rifle in the ever popular .32-40 calibre, serial #A8059 with 26″ round to octagonal barrel marked "Special Smokeless Steel"  and dovetail mounted front sight with elevator adjustable semi-buckhorn rear sight. Half length magazine tube. Case coloured takedown action. Forearm and semi-pistol grip walnut stock of fancy black walnut with crescent steel butt plate. Barrel and mag tube retain 80% lightly faded blue showing small spots of corrosion. Action has restored case colours on sides with top & bottom parts having a faded appearance with touch up finish. Stock & forearm are sanded with heavy gloss varnish refinish. Stock has small chips along both side of upper and lower tangs with a small (barely noticeable) repaired crack to right wrist. The bore is generally bright retaining sound rifling. this is a very pretty Marlin rifle ….. £2,750


Sharp & Hankins 1862 Navy carbine in .52 rimfire calibre. Barrel is 24″ with good, strong rifling with some frosting and fine to light pitting in the grooves. The frame still shows traces of original case hardened finish with some freckling, light rust and spots of corrosion. Markings on either side of the frame are clear. The distinctive leather barrel cover (which is usually missing or in poor shape) remains. This may well be a contemporary replacement as it shows only minor to light scuffs and cracking/crazing but it certainly looks to have been on the carbine for some time! The butt stock has a light coat of varnish over some fine to light scattered dings, marks and scratches. The butt plate is brass and is tarnished with areas of discolouration.  A fine looking and better than average Navy carbine ….. £1,950


Ball repeating carbine in .50 rimfire calibre. They were manufactured by Lamson & Co in Windsor, Vermont and only 1,002 were made for a government contract in 1864 but they received them in 1865 after the Civil War had ended. TYhis example is in all original and very good condition. The barrel is 20.5″ in length with an excellent bore. It is a seven shot lever action repeating carbine similar to the Spencer but with the magazine tube in the forend instead of the butt stock. It is marked E G Lamson & Co/Windsor VT/ Ball's Patent/ June 23, 1863/ Mar 15, 1864 and bears inspector's markings in the left side the butt stock and top of the wrist near the receiver. This rifle is generally considered to be a civil War weapon even though they were delivered too late to have seen service in the war….. £3,400


.40-70BN Sharps sporting rifle
#155800 Sharps sporting rifle in .40-70BN chambering, 26″ octagonal barrel labelled Sharps Rifle Co., Hartford.  Bluing on the barrel is turning brown. The bore shows slight frosting and clearly defined rifling with slight wear. The action is tight and shows a silver/grey patina finish. The rifle is fitted with double set triggers. The front sight is a Marbles #8 sights and the rear sight is a R S Lawrence ladder type. The woodwork is sound with one slight crack visible in the forend and multiple dings and scratches on the butt stock, not unreasonable for what was almost certainly a working gun in its history. There is a slight crack near the tang and a small through crack near the toe of the stock. A sound example of a 19th Century working rifle …. £6,000


Spencer rifle conversion in .56-50 cal
 These rifles were converted at the Springfield Armoury in 1871 after the Civil War from  Burnside 1865 marked carbines. They were fitted with a 32.5″ barrel with three groove rifling and a Stabler magazine cut off was fitted. This example shows around 90% blued and colour case hardened finish. It comes with original bayonet and the barrel shows some marling where this has been affixed in the past. The bore is excellent (9.5/10) and this rifle may well be  unfired …. £7,500


Winchester Model 1886 rifle in .38-56 calibre.
Manufactured in 1891 with serial number 52469 this example of a Model 1886 which is believed by many shooters to be possibly the finest rifle made by Winchester. Many would say the Model 1886 has the strongest locking mechanism of any of Winchester's lever action rifles. Although designed to handle some of the biggest black powder cartridges of the day it proved more than adequate for many of the latest smokeless powder cartridges of the day and indeed the .33 WCF cartridge introduced in 1903 was only ever loaded with smokeless powders and offered in the Model 1886.
This example has a 26″ octagonal barrel with Rocky Mountain style front sight and semi-buckhorn sporting rear sight, featuring a full length magazine tube, case coloured action with walnut forearm and straight grip buttstock. The overall condition of this rifle is good with barrel and mag tube retaining 70% dull, worn blue showing edge wear. Action retains some lightly visible case colours with the balance fading to silvery grey patina . Sanded and refinished wood shows some handling marks. Bore is bright and sound with excellent rifling with one or two dark spots near the muzzle giving an estimated 9/10  Mechanically the rifle operates correctly…. £3,500


Remington .41RF O/U Deringer with nickel finish.
This example of a popular Old West deringer pistol resembles Roger in that it is not in pristine condition, it's old and has drifted into the present, aged, and a little rusted, and repaired by someone who reached Trails End s long time ago. It all seems to operate correctly, the hammer may be cocked and holds back until lowered by pulling the trigger. The barrels lock in place and open upwards as they should although on close inspection the hinge has been repaired many years ago. The grips show a slight crack which has been very well repaired in antiquity. Overall it is still a good example of this pistol ….. £475  SOLD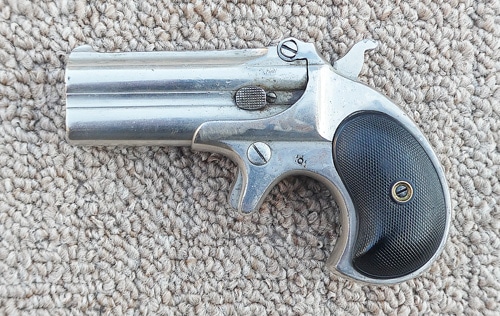 Colt Colt Pocket Third Model Deringer.
Manufactured from 1875 to 1912. Serial number42107   Standard markings and features with London crown proof marks underneath the barrel and matching hand numbered grips. This deringer has a 2 1/2″ round barrel and is chambered in .41RF calibre and has a mixture of blued and nickel finishes. The pistol is in very fine condition retaining 70% original high polish blue finish on the barrel with some scattered small patches of light pitting. The brass frame shows 90% original nickel finish with very slight edge wear. Grips are fine with some light handling marks and light crazing towards the bottom edges. Mechanically excellent ….. £1,300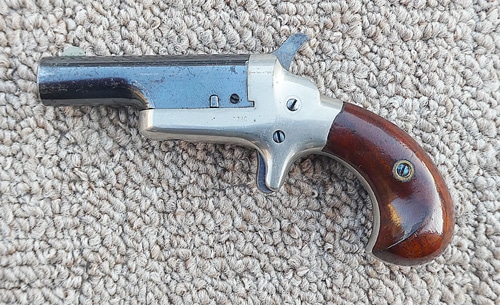 Smith & Wesson Model 1 1/2 Single Action Revolver.
Manufactured 1868-1875  Serial number 60158  Chambered in .32RF  with 3 1/2″ round barrel and birds head grip. In clean condition showing a blued refinish and good rifling in the barrel. The action appears to function perfectly ….. £800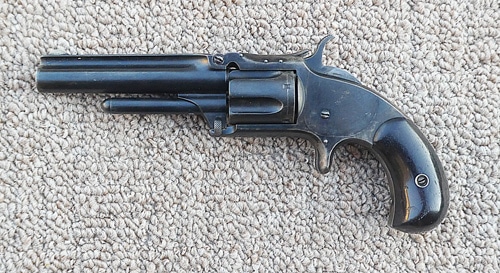 Sharps Pepperbox  4 Shot Pistol.
Serial number 8299  Manufactured c1859-1874 this example is chambered for the .30RF cartridge. The cluster of four barrels is fired in turn using a clever design of firing pin which rotates through 90 degrees each time the hammer is cocked. The cylinder group is moved forwards for loading by pressing the small catch in the frame under the barrels.  The blued barrels and hammer have turned to a pleasing dark brown colour and the brass frame retains a pleasant natural colour. The wood grips are in very fine condition and the whole pistol is a good, clean example of this innovative design ……. £800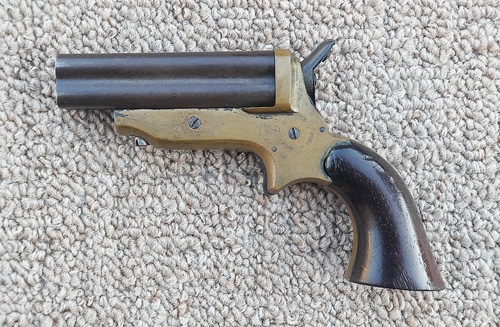 Remington New Model Army revolver.
Good condition original Civil War antique revolver in .44 calibre  percussion. Mechanically tight and excellent with very good cylinder lock up and clear markings. Metal finish is old refinished nickel plating showing minimal flaking particularly around the muzzle. The 8″ octagonal barrel shows excellent rifling with minor pitting. Wood grips have been refinished and repaired. This revolver is in an original period wood case with glass top and includes some accessories – balls, labelled cap tin, bullet mould, screwdriver and nipple wrench. The wrench is not correct as it is too large. The case lid has a few split corners with one or two loose inserts. Overall a good, sound example of this classic Civil War revolver ….. £1,700  SOLD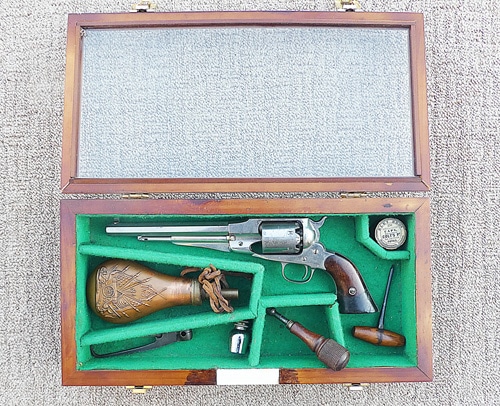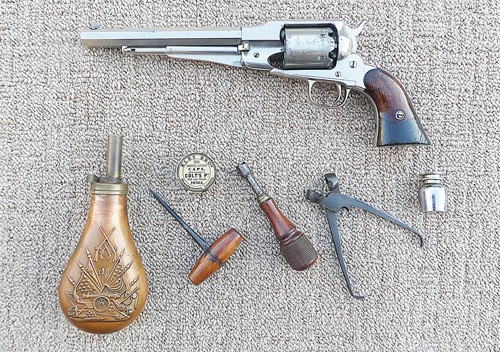 Colt Deringer with Pearl Grips.
A very fine example of this classic Old West "back up" pistol often favoured by gamblers who frequented the saloons as well as citizens requiring a simple but effective means of concealed self protection. Serial number 19906   Chambered for the .41RF cartridge this little deringer retains around 80% of its original nickel plating with some light edge wear and light flaking mainly on the left side of the barrel. Grips are also very fine with some light handling marks and extremely attractive colours. Mechanically excellent ….. £1,500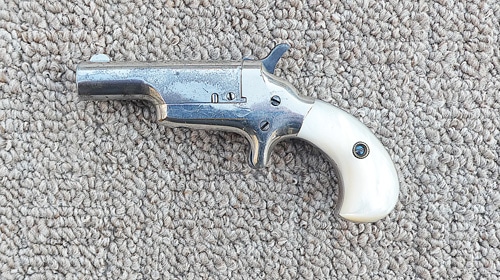 Colt 1849 6″ Barrel Revolver with New York Address.
This is a fairly early serial number (#40785) made in the third year of production (1852) with all numbered parts showing the same matching number. In very good overall condition with around 80% silver plating on the brass grip and trigger guard and showing some possibility of minor touching up of the finish. The two line New York address on the 6″ barrel is very sharply defined and does not appear to have been sanded out and the stagecoach hold up scene on the six shot cylinder is clearly defined. All nipples are in good shape and have not been hammered or flattened. All in all this is a pretty example of this classic .31 calibre black powder percussion revolver by the World's most famous revolver manufacturers …. £1,600 SOLD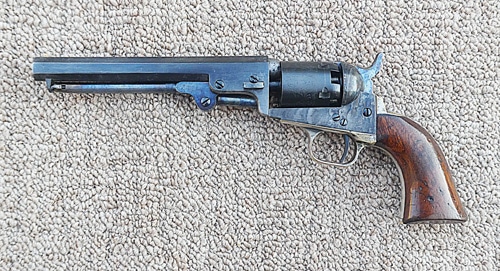 Winchester Model 1886 rifle in .38-56 calibre.
Serial #75400 manufactured in 1893. Included with a factory letter which lists this rifle in .38-56 calibre with an octagonal barrel (26″) and plain trigger when received in the warehouse on 4th February 1893 and shipped on 14th February 1893 in order number 14610. Fitted with dovetailed small German silver front and elevation semi-buckhorn rear sights. Mounted with a smooth forearm and straight grip stock with crescent buttplate.  In good condition retaining traces of original blue finish and mostly silvered out case colours on the receiver with the balance mostly a smooth, grey patina, some light spotting scattered throughout (more dense on the receiver) and a patch of mild pitting on the bottom right of the receiver. The wood is very good with some scattered minor dings and scratches and a small notch cut at the front of the comb. The bore is generally sound with strong rifling and a few small areas showing minor roughness. I would give it 8/10.  Mechanically excellent.
This is a good example of Winchester's larger frame lever action rifle which allowed them to offer rifles chambered for some of the larger black powder cartridges of the day as the design replaced the older toggle-linked bolt with twin locking lugs rising up each side of the receiver and locking the bolt firmly in the receiver….. £3,250


Swiss Canton rifle  £1,500

.50-70 Sharps military rifle  £3,750

.58 cal American Civil War rifle  £1,200

.25
Further information and prices to follow shortly together with a few more rifles ….. E&OE!
No products were found matching your selection.