New Firearms
This page updated 1st November 2023
 NEW FIREARMS
Most shooters will have becoming concerned at the ever increasing prices we are all facing with our sport. The costs of reloading components for centrefire (if and when you van actually FIND them) is starting to have an effect on shooting with shooters either firing fewer rounds or even not shooting as often as they would like. This has undoubtedly led to a rise in rimfire shooting, where even with the recent sharp rises for rimfire ammunition, the cost is still reasonable. An interesting observation at this point is the dramatic increase in long range rimfire shooting as far as 500 yards!
With this in mind we are now offering some Rimfire Magic rifles at a slightly lower specification than usual. This means of course a reduction in price. What this does NOT mean is a decrease in quality of our builds! Shown below are examples of the first few builds along these lines. With the increasing cost of shooting we hope this may be helpful towards shooters affected by these difficult times in which we find ourselves.
We will also be offering some rifles built using a mixture of new and used parts in another attempt to keep prices under control. Although it is planned to use new receivers for these rifles in fairness they will appear in our Secondhand Firearms page so please browse that page too….
SY19538  .22LR cal  Volquartsen Summit straight pull rifle fitted with a Green Mountain 16″ heavy, fluted and threaded stainless steel barrel, Rimfire Magic metal tuned trigger unit with extended magazine release, in a Magpul X-22 stock in Olive Drab Green ….. £1,100


SY19473  .22LR cal Rimfire Magic receiver and Match bolt, fitted with Volquartsen 12.5″ carbon fibre barrel with muzzle brake, our modified BX® trigger unit with EMR & ABR but without CST last shot hold open, installed in MDT chassis in Flat Dark Earth with Magpul FDE pistol grip and Magpul CTR collapsible buttstock in FDE ….. £1,350  SOLD


SY19472  .22LR cal Rimfire Magic receiver and Match bolt, fitted with Volquartsen 12.5″ carbon fibre barrel with muzzle brake, our modified BX® trigger unit with EMR & ABR but without CST last shot hold open, installed in MDT chassis in Flat Dark Earth with Magpul black pistol grip and Magpul MOE collapsible buttstock in black ….. £1,350  SOLD

SY19475  .22LR cal Rimfire Magic receiver and Match bolt, fitted with  16″ Green Mountain heavy fluted and threaded stainless steel barrel (with two TINY marks near the muzzle (see photo), BX ® trigger unit with Brimstone modification, auto bolt release and extended magazine release, Power Custom extended bolt handle assembly, installed in a Magpul X-22 black stock ….. £1,100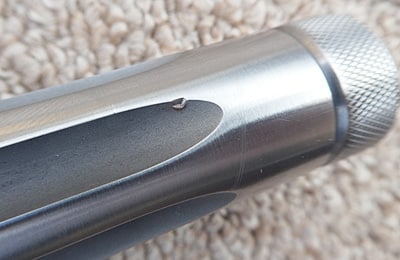 SY 19476  .22LR Rimfire Magic rifle with 16″ Green Mountain blued sporter, fluted & threaded barrel, Power Custom extended bolt handle assembly, BX® trigger unit with CST last shot hold open, black Hogue rubber overmoulded stock …… £975

SY19457   Rimfire Magic .22LR semi-auto rifle. This represents possibly the zenith in our range of Rimfire Magic rifles with our short range testing indicating this rifle is capable of the highest accuracy!  A Power Custom extended bolt handle assembly is fitted, together with a 16″ threaded Lilja Match grade heavy stainless steel barrel and our latest polymer Match trigger unit which may be adjusted for single or two stage operation from outside the trigger unit. We have not included a CST last shot hold open as our initial tests suggested that the last round from the magazine MAY very marginally open the group due to the altered harmonic vibration as the bolt locks to the rear. We intend to investigate this phenomenon further! The barrelled action is installed in a MDT Oryx chassis/stock system …… £1,750  NB. The sound moderator shown is not included.


SY19536  .22LR cal Volquartsen Summit straight pull bolt action rifle fitted with Volquartsen 16″ carbon fibre barrel (threaded)  and Volquartsen TG2000 trigger unit, Magpul X-22 stock in Flat Dark Earth ……£1,275


SY17117  Remington 541X Target model .22LR bolt action rifle. Imported by ourselves from a US auction, this example is UNUSED and was received in it's original box with accessories. All the smaller parts were still in their sealed foil bags. This rifle was used for sniper training in the US and comes with a 27″ blued barrel with  a Lyman style globe front sight with apertures and an adjustable Williams rear aperture sight.  These rifles were frequently procured on a military contract but often sold off through the CMP and this one was made in 1987 and was eventually sold through the CMP in 1999 and the sale paperwork is in the box …… £950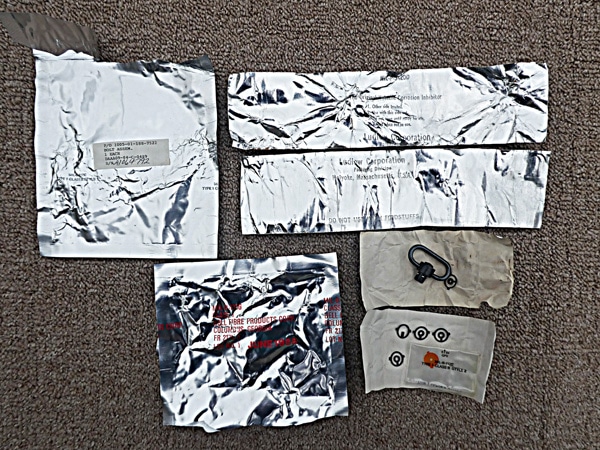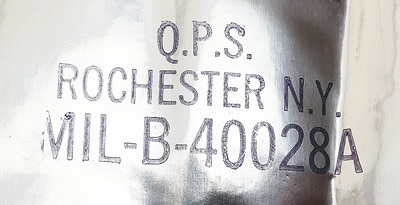 SY18016  .223 AR-15 rifle built on a Eisenach straight pull receiver with 16″ Walther stainless steel barrel (threaded) with 1 in 8 twist. Lower receiver is Aero Precision and this rifle is fitted with a Hogue pistol grip and Tapco CAR style butt stock. A 7.5″ ventilated handguard is also fitted together with a Hipertouch single stage trigger and a Magpul 20 round magazine …. £1,600  ON  HOLD

SY15925  .260Rem  Remington 700 rifle with 24″ Varmint barrel (threaded) with picatinny rail, installed in a Magpul Hunter stock (Flat Dark Earth) complete with Magpul magazine well and floorplate and five shot magazine (10 round mags available) and adjusted trigger pull ….. £900


SY18927  .260Rem  Remington PCR Precision Chassis Rifle, 24" heavy 5R rifles barrel (threaded) tactical bolt knob, aluminium handguard,  picatinny rail, Magpul PRS Gen 3 adjustable butt stock, Magpul pistol grip, five round Magpul magazine, incredible value in a cartridge which will give the 6.5 Creedmoor a run for its money …… £1,200


.303 Lee Enfield No 4 Mk2 rifles  We weren't sure whether to put these in the second hand or new firearms pages as they are unfired except of course for recent Proof testing and marking. In fairness we will also put these on our Secondhand Firearms page as well! They are fine examples of the last Lee Enfields manufactured at the Fazakerley factory on Merseyside back in 1955. These were never issued and eventually found their way into long term storage. We have been lucky enough to get our hands on several of these fine rifles over the past few years but their scarcity has led to ever rising prices. We have obtained them from various sources in the US where they have been for sale at prices up to $2,500! Naturally we have to pay for shipping, export fees and then add 23% for VAT and Duty. These examples are in excellent condition with just one or two minor storage dings. As you would expect the metalwork is superb and of course the bores are perfect!  Price £2,000 each


SY19156/SY19158  Marlin .357 cal Model CSBL stainless steel rifles with 16.5″ barrel, XS sight rail and ghost ring sites, grey laminate stock etc. As expected these have both been fully tuned by Roger and immediately available ….. £1,800 each BOTH SOLD

SY19155  Marlin Model 1894C .357 cal blued 18.5″ barrel This example is new in its box and of course has been fully tuned. It does show some minor marks at the breech end only in one of the grooves in the bore but this should  not affect its performance.  Hence we are offering this rifle at a reduced price of £1,300


12 Gauge (Section One) Mossberg Maverick Model 88 shotgun with 24" cylinder barrel, rifle sights …. £325


.
ERRORS AND OMISSIONS EXCEPTED
No products were found matching your selection.