New Firearms
This page updated 22nd July 2019
.17HMR
SY17892  CZ bolt action sporting rifle with integral moderator, 2.0lb trigger pull …. £600


SY18832 Tikka TX1 MTR bolt action rifle, 16″ blued threaded barrel, polymer stock ….. £495

.22 rimfire
SY18827 Tikka TX1 MTR bolt action rifle, 16″ blued threaded barrel, polymer stock ….. £495

SMITH & WESSON  MP-15 RIFLES – ALL LUBRICATED, CHECKED AND TEST FIRED!
Sport model with 16″ barrel and 25 round magazine …… £675
Sport model MOE SL …… £720
Also we are now offering our special enhanced models fitted with Volquartsen carbon fibre Match quality barrels and EDM extractor for £925 (Sport) or £975 (Sport MOE SL)
Ruger 10/22 limited Edition featuring 18.5″ blued plain unthreaded barrel with fibreoptic sights and Ruger's latest BX trigger unit with added an automatic bolt release. Grey polymer stock ….. £395

.223
SY17996  Remington 700 SPS Tactical 16″ threaded heavy barrelled action in MDT LSS chassis with Hogue adjustable butt stock, ERGO pistol grip, tuned trigger etc, 10 round magazine …. £1,350


Remington SPS Tactical rifles with 16.5″ heavy barrel (1 in 9 twist) threaded 1/2 x 28 in Hogue Ghillie Green overmoulded  stock, with our fettling done of course! ….. £850

Remington SPS Tactical rifles with 20″ heavy barrel(1 in 9 twist) in Hogue black overmoulded stock, threaded 1/2 x 20 UNF, adjusted trigger etc ….. £900


.243
SY14301  Howa sporter 22″ threaded barrel in Manners MCS-T stock. Latest Howa two stage trigger, scope base and hard case …. £800
6.5 Creedmoor
We have acquired a number of brand new Remington 700 ADL rifles in this calibre with a 24″ semi-heavy Varmint profile barrel (factory threaded) We are offering hese as the basis for a variety of our range of semi-custom Rem 700 rifles with refaced and recrowned muzzle where necessary and of course an adjusted trigger. They are offered with their factory synthetic stock for an incredible £700 which is a tremendous opportunity to shoot a rifle chambered in one of the current "must have" cartridges which has become very popular over the past few years. Check back here soon as we will be adding examples in alternative stocks, all at highly competitive prices.
How about this for an amazing deal …. the 6.5 Creedmoor barrelled action as above but in the Magpul Hunter stock with detachable 5 round magazine system fitted for just £975    (Excluding scope & bipod)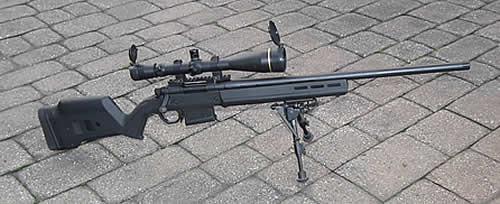 Also on VERY SPECIAL OFFER is the rifle shown below which is the same 6.5 Creedmoor barrelled action in the very latest Magpul fully adjustable stock in a choice of black or Flat Dark Earth at only £1,700 while stocks last!

.260 Rem
We have a small number of these Rem 700 PCR (Precision Chassis Rifle) rifles in stock. They feature a 24″ Varmint barrel with 5R rifling, threaded muzzle (5/8 x 24)  Square drop handguard, tactical bolt knob, X-Mark Pro adjustable trigger. Detachable five shot magazine and Magpul pistol grip and PRS fully adjustable butt stock. This cartridge has a performance spectrum similar to the newer 6.5 Creedmoor and uses the same bullets making it a real contender for long range shooting. Baasically it is a .308 Win case necked down to accept a 6.5mm bullet.   NB. The scope and bipod shown are not included.  Like all Remingtons we offer it comes with refaced and recrowned barrel where necessary and adjusted trigger  RRP £1,465  OFFER PRICE  £1,200




.308
Remington Model 700 SPS Varmint with 26″ barrel, muzzle threaded 5/8×18 UNF, factory synthetic stock, muzzle refaced, recrowned, trigger adjusted ….. £850       SEVERAL IN STOCK
SY17880/81 Remington Model 700 VSF, stainless steel barrel and 26″ fluted barrel, muzzle threaded 5/8×18 UNF, factory synthetic stock, muzzle refaced, recrowned, trigger adjusted ….. £1,200
.300 Blackout
SY17891 AR-15 rifle with 16″ Walther threaded stainless barrel (1 in 7 twist) Eisenach side charging upper receiver, nickel boron bolt carrier, tuned trigger, Hogue handguard and CAR collapsible butt stock …. £1,500


.38/.357
AT LAST, MARLIN LEVER ACTION RIFLES BACK IN STOCK AGAIN! We are very pleased to report that the latest batch of these rifles fresh from the factory have delighted us with regards to their fit and finish and general overall quality.  They remind us of the quality product we used to see some years ago! Naturally we are offering all ours with our latest up to date tuning and slicking together with installation of our stainless steel firing pin.  Our latest trigger tuning is achieving pulls of a maximum of 3lbs with many being between 1.75 to 2.75lbs. To get this result we reshape the factory sear on a specially adapted fixture and then reharden the part before use. The cost of these competition ready rifles is £1,000 and to make this model even better value for money we have included a new Ranger Point Precision flyweight loading gate at no extra cost!


Please see our "Marlin" page for some of the accessories and parts we offer for these fine rifles.
SY18834  Chiappa Rhino long barrel revolver in black finish, supplied in hard case with moon clips ….. £1,160
Now available in silver chrome finish at £1,260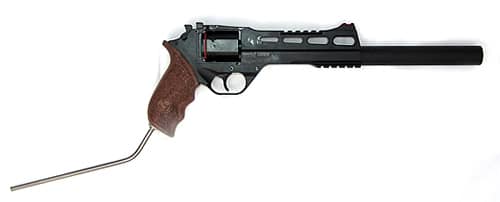 12 gauge
Mossberg Maverick Section One shotgun (5+1) pump action with 24″ cylinder barrel, rifle sights ……. £375


No products were found matching your selection.