WELCOME TO OUR NEW WEBSITE!
We hope you like our latest site which allows orders to be placed with us 24/7 Please note this service is an extension to the telephone mail order service we have offered for the past 35 years. So if you have any questions you need to ask you are still welcome to call us on 01226 756332 or e-mail us at enquiries@rimfiremagic.co.uk Our shop opening hours remain unaltered and we are available from 09.30 – 17.30 Thursday to Saturday with voicemail available outside these times and e-mails are checked every day.
We look forward to serving new customers together with our regular customers! Please note that we have many more products to be listed on the new site and expect to be adding more items at regular intervals so please feel free to check back frequently to see our most recent additions!
This is a good moment to remind everyone that we are not just a mail order business, and our  shop may be mall but still offers a fair assortment of items which may be of interest to all Section One shooters. For example we stock rimfire and centrefire ammunition  for sporting and target shooters together with reloading components such as brass cases, primers, expanding and Match projectiles, powders from Vihtavuori, Alliant and Hodgdon. We stock cleaning products and chemicals, reloading equipment from Lee Precision and many more related bits and pieces. We stock many Magpul items and of course many Ruger© 10/22© related factory replacement and aftermarket accessories and parts from Power Custom, Volquartsen Custom and lots more…..
UPDATED  10th AUGUST 2022
We like to update our site with any relevant piece of information which comes to hand and at last, after many months of delay a great piece of news came up last night following a phone call to our exporter in the USA. Oh yes, how much we have wanted to tell you but at long last our large shipment of rifles and parts is currently sitting at Denver airport!  It has proved very difficult (and the difficulties aren't entirely over yet either) as more and more US airlines are simply refusing to carry anything to do with firearms! However it would appear the Emirate Airlines, who carried our previous shipment back in the New Year, are still happy to export our current shipment. We were so pleased to hear this news we may need to switch our allegiance from Barnsley Football Club to the Arsenal who of course are currently sponsored by Emirates Airlines. Once we hear the shipment has landed here in the UK we will of course let you know whilst getting all the appropriate firearms unpacked, sorted and off to the Proof House ASAP. Let the good times roll ……. !
CZ 457 SCOPE RAIL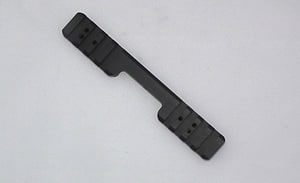 We are pleased to add another scope base to our range offered for the CZ rimfire rifles. This one fits the latest CZ457 models
MARLIN 1894 TACTICAL

If you fancy updating your 1894 Marlin to give it the latest tactical look then please take a look a our Marlin page but please be aware we have only limited numbers of these new parts available!
CZ452/455 SPRING KITS
Without a doubt this little kit has been the most successful product we have ever come up with over the past 37 years! Not too surprising considering the immense popularity of these rifles which in their turn are probably the UK's top selling rimfire rifle. Over 8,000 of our spring kits have been sold but sadly we will not be offering them in the future. It is too late in our career to invest in a further large quantity of the component parts of the kit especially the small brass tubes which need to be manufactured to very fine tolerances. However all is not lost as we do still have a very small quantity of two of the springs. As we are receiving many enquiries for the kit we felt at least we can still offer these two springs without the brass tubes which were seldom needed in the later Model 455 rifles but were often advisable in the Model 452.  So we are now offering the two springs for £10 plus £5 carriage if required.  Please call us on 01226 756332 or e-mail us at enquiries@rimfiremagic.co.uk  if you wish to order or simply ask a question.
REACH  FOR  THE  SUMMIT!
Brought to you in association with our colleagues at Volquartsen Firearms we are delighted to bring you news of our latest rimfire rifle …… the Summit .22lr is a straight pull bolt action rimfire rifle with a toggle joint action based on the action used successfully in many of the top  rifles used in the discipline of Biathlon shooting, a novel event involving a mixture of skiing and shooting. Probably the most commonly used rifle for this branch of the shooting sports is the Anschutz biathlon rifle which uses a similar side operated straight pull Fortner action.  The Summit concept uses a similar style of action but its greatest innovation from our point of view is that Volquartsen's action is designed around the established Ruger®  10/22®  footprint and will accept almost any Ruger®  10/22® barrel, trigger unit and stock. What is there not to like here! We believe this new rifle will in time become as popular with UK shooters as our well established Rimfire Magic semi-auto rifles.
This allows us to offer a range of rifles adaptable to many styles of shooting including a sporting rifle which may be operated quickly and quietly or  target grade rifle for use in competition shooting where the use of a semi-automatic rifle may not be desired. With a sound moderator fitted you can have a sporting rifle with an action which may be operated with a finger and thumb or in the case of some practised shooters a single digit may be used to cycle the action. Naturally with a closed action  this leads to an accurate rifle which is much quieter than a semi auto rifle.
From a target shooters perspective we can offer a lightweight, accurate rifle suitable for many disciplines conducted at a more leisurely pace or alternatively with the use of a longer traditional heavy steel barrel you have a heavier and more stable platform for NRL22 competition or the latest long range precision rimfire shooting. One of the interesting features of the Summit  system is that the headspace may be easily established for your specific ammunition choice if you have a particular favourite ammunition you like to use, particularly in long range shooting. An additional feature is the integral picatinny scope base which is machined into the receiver incorporates a cant of 20MOA allowing the shooter more opportunity to reach out and zero the scope at longer distances.  
Naturally we will be happy to quote for any reasonable specification you may require but our "standard" specification as seen in the photo immediately below consists of the Summit action with a Volquartsen TG2000 trigger unit with a trigger pull of around 1.75 lbs and a Volquartsen 16″ carbon fibre barrel with a 1/2 x 20 UNF thread at the muzzle. This is installed in a Magpul X-22 Hunter stock. The stock is available in a choice of black, flat dark earth or olive drab green. However as mentioned before don't forget the Summit action should accept almost any Ruger®  10/22® barrel, trigger unit and stock. This may possibly make the Summit one of the most versatile bolt action rimfire rifles on the market today! The price for the standard rifle shown immediately below is £1,250  If you wish to see a Summit for yourself why not call in and take a "peak" at one!

In addition to the carbon fibre barrels we also have in stock a number of an alternative top class rimfire barrels from the highly respected  company run by Dan Lilja in the USA.  These are .920″ diameter heavy plain stainless steel barrels which we have used in the past to build our top of the range Ruger 77/22 and CZ455 rifles. Normally offered at a length of 21″ we also offer these fine barrels in shorter lengths eg. 16″ and 18″ with either a plain target crown or with a threaded muzzle at 1/2 x 20 UNF.  All the stocks offered with our Rimfire Magic rifles are of course also suitable for the Summit rifles including Boyds Evolution and At-One stocks, Hogue thumbhole, Magpul X-22.  We have also just acquired some more of the excellent (but often difficult to find) MDT ORYX chassis systems as shown in the other Summit photograph above. With the choices of parts available we are confident we can build you a rifle to suit your particular requirements so please don't hesitate to contact us for any further information or to ask any questions you may have concerning our new range of Summit rifles.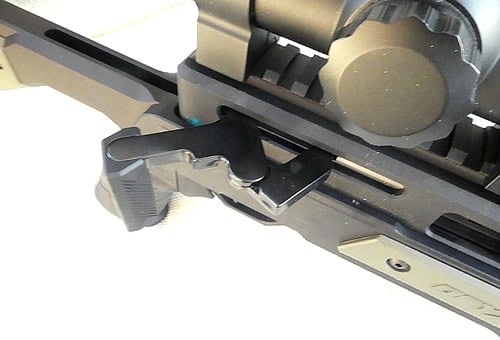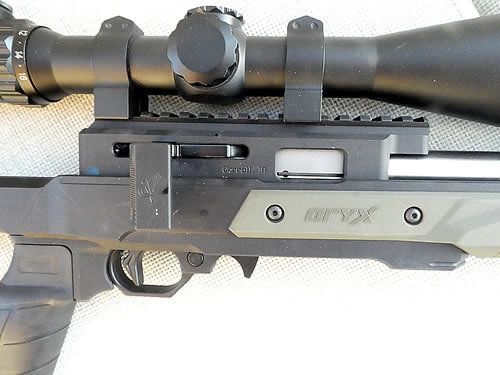 RIMFIRE MAGIC RIFLES
We are currently running very short of Rimfire Magic receivers and Ruger® BX® triggers to work with. Unfortunately the order for a further fifty receivers which was placed with our manufacturer got lost in the system so we are currently looking at around 3 months before we will have more available. Meanwhile we probably have only one or two receivers to build on so if you are thinking of ordering a rifle then it may be worth moving quickly! We have also ordered more Power Custom bolts and more CST last shot hold open devices too.
Meanwhile we had a pleasant surprise a few months ago when a caller at the shop showed us a video on YouTube which had only been posted the day before and had already received over 1,000 hits (plus one from us later that day!) We knew nothing whatsoever about this review and we have no connection with the reviewer who in turn it appears was offered the rifle to review by a customer. The rifle itself was produced back in 2017  We thought you may like to see this ….
MARLIN RIFLES
We have been delighted with the response to the tuning process which we  apply to all the Marlin lever action rifles we offer. When the work is completed it is possible to work the action with one finger, and the trigger pull is usually a maximum of 2.5 lbs with most rifles showing a trigger pull weight of 2.0 lbs or even less! Apart from internal polishing and reshaping of some parts we also include a one piece stainless steel firing pin and modified or reduced power springs
The popularity of these fine lever action rifles has led to  a shortage and despite placing regular orders with the importers we are still unable to get our hands on enough of them!  We are delighted to confirm that we are Pro Dealers for Raytrade UK Ltd who import not only Marlin rifles but also our favourite centrefire rifles …. the Remington 700. Whilst we try to carry a reasonable number of both these marques in stock at the shop we are able to quickly provide a price quote and availability for any model of Marlin and Remington rifle plus of course ANY other item from any other manufacturer whose products are supplied by Raytrade including Chiappa, Nesika Bay, Bushmaster and Dakota Arms rifles etc

MARLIN DARK SERIES
We have taken a number of advance orders on any Marlin rifles including the latest Dark Series Model 1894 in  .357 and .44 mag  They feature a 16.25″ threaded barrel, black painted wood stock with webbing finish, XS sights and scope rail and big loop lever with Paracord wrapping.  Naturally ours will be supplied in a fully tuned and slicked package, ready for use on the range. We currently have around 20 Marlins on order with the importers and of course will post details when we get our hands on them. Included on this order is a number of the new Marlin Dark series in both .357 and .44 calibres. As well as the basic model we are also expecting some of the Tactical versions which are fitted with a Midwest Industries aluminium M-Lok style handguard and 16″ barrel. With their parkerised metal work and black wooden butt stock we think they are a great addition to the Marlin range and destined to be rather sought after too! We are accepting back orders for them right now so please feel free to get in touch if you are interested. You won't be surprised to learn that they will all be tuned and slicked before sale!  We were recently asked by a customer if we would tune his Dark Series Marlin in .30-30 calibre (we don't see many in this calibre) and here is a  photo of this gentleman's rifle after we fitted the handguard he had purchased separately.


News reached us recently that Marlin has been purchased by Ruger in the US. Clearly this has enormous repercussions here and it is very unlikely that we will see any Marlins coming into the UK for a long time. It is very much hoped that Ruger will subsequently appoint Raytrade as their UK distributor as they have done a great job with Marlin bearing in mind the difficulty in actually getting any Marlins out of the factory. So our news above about the new Dark Series is already out of date but it now seems incredibly unlikely that we will see any Dark Series (or indeed ANY Marlins at all) coming into the UK until next year or even 2023!  I very regrettable situation so we can only suggest that if you are thinking of purchasing a new Marlin …. do it soon! We are at least able to supply a number of Dark Series .44 calibre Marlins  including the Tactical model which is fitted with the Midwest Industries M-Lok aluminium handguard.

THANK YOU!
Whoops…. nearly forgot! We would also like to thank all those people who have  e-mailed to say that they have read about the cancellation of our retirement plans (yet again!) and said how pleased they were to see it. Although we are going through the worst two years of our lives with various health issues we honestly have to say that main reason we have tried to keep going is the kind sentiments expressed by so many of you we have come to regard as not just just customers but good friends too!  Thank you all!